02.05.18
Just so everyone is on the same page...
"a B-side was originally known as the song on the flipside of a 12" or 7" vinyl single that backed the A-side, but wasn't the song promoted or that received the radio play".
Meaning the best songs made the A-side and the ones that were only ok found their way onto the B-side. You're wondering how this applies to Office 365, allow me to explain.
Microsoft now has 120+ million active monthly users on Office 365. They have added 20+ million in the last 6 months alone! Office 365 is a collection of services/tools and the licensing model reflects that, with different combinations of the services/tools available depending on what you need. So for example with an E3 license you will get the following: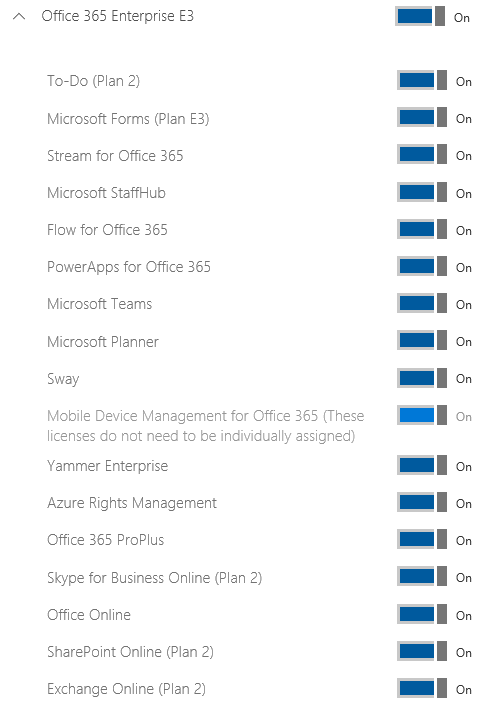 You can probably name the A-sides, you're probably using them: Exchange and Office (Online or locally), maybe Skype for Business, SharePoint Online. But what about the plethora of other services/tools that are bundled into many of the licenses? I'm talking about Teams, Flow, PowerApps, Forms, Planner etc. You should really take a look at these, especially if you already have them as part of your licensing.
PowerApps - this has really moved forward in the last 6 months. Perfect for replacing those email based requests that all businesses have e.g. someone new starts you have to email your Service Desk for a new account to be setup or email Central Admin if you need travel arranged. These can be captured through PowerApps and workflows triggered as new requests come in for approvals or alerts etc.
Flow - do you need two systems to talk to each other, do you need to transfer data between systems, have a look at Flow. We have seen email attachments being taken from a mailbox and stored in SharePoint for processing for example. It's not just Microsoft services that Flow will work with either with Dropbox, Twitter, Facebook, Freshdesk and Zendesk to name just a few! You even get a ton of templates that are easy to use to get you started.
Teams - in some ways Teams are an amalgamation of some of the other Office 365 services. With Teams you are getting SharePoint, Planner, Skype and others all wrapped up together. It is more than the sum of its parts though. Microsoft have put a real emphasis on Teams and it shows. Previously companies would have given their teams a SharePoint site perhaps, which is ok, fairly useful but limited. With Teams they are now providing a real collaborative workspace, you might say it took them a while to offer it but it's here now.
What do the following instantly recognisable, hugely successful songs all have in common?
We Will Rock You by Queen
Hound Dog by Elvis Presley
Unchained Melody by The Righteous Brothers
Gloria by Van Morrison
yep, you guessed it, they were all B-sides! I think the majority of companies using Office 365 are not using it to it's full potential. To be fair rolling out these services takes time and your company may not need some of them. Of course you don't start with the technology, you start with the business requirement, with your processes and if changes are needed. All I wanted to highlight with this article was that there are some hidden gems in Office 365 which may seem like the B-Sides but are definitely worth exploring. There are tools that will prove to be big hits with staff and help companies become top of the pops (ok I went a bit far with that one but you get the idea!). Take advantage of what, in many cases, you're already paying for.
A word of caution though, don't forget the 3 G's, Governance, Governance and Governance! There is a happy medium between having zero governance and having too much. This is what you need to find for your organisation. There needs to be some thought given to how you want staff to use the services, to who should have access etc. There will be quick wins though, things that can be rolled out without a huge amount of planning that will be really beneficial to your organisation (Teams!). Check out the Office 365 B-Sides, you might get a pleasant surprise.